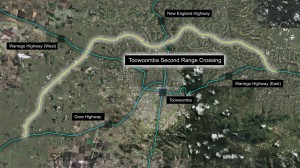 The State and Federal Governments have given the green light to the Toowoomba 2nd Range Crossing (TSRC). The Announcement was made on 31 January 2014, and the procurement phase has already begun with "Register of Interest" being open to interested parties, documentation is available on the Projects Queensland website.
Toowoomba is a transport network hub for the Darling Downs and a gateway to the developing energy sector in the Surat Basin. With the Warrego, New England and Gore Highways converging in Toowoomba en route to and from the east it has become a focal point for both interstate and intrastate freight movement. Increasing traffic volumes are putting pressure on the highway network that passes through Toowoomba and over the Toowoomba Range.
The TSRC is a bypass route to the north of Toowoomba, approximately 41km in length, running from the Warrego Highway at Helidon in the east to the Gore Highway at Athol in the west via Charlton and is expected to be ready for commencement by 2015.
The project is the largest Commonwealth Government commitment to a single regional road project in Queensland history.
Treasurer Tim Nicholls said "Modelling shows over the next 30 years, the Toowoomba Second Range Crossing will help bring about a $2.4 billion increase in productivity in the Toowoomba region alone, boosting national productivity by $3.1 billion."
The QTLC will closely follow the development of the specifications for the TSRC and will engage with industry and government to identify and promote tangential infrastructure, planning and policy that will leverage additional efficiency and productivity benefits.