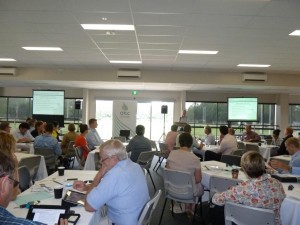 The Central Queensland Supply Chain Forum held in Emerald on the 21st February proved a great success attracting 80 attendees from organisations and industries in the region. The breakfast event held by the QTLC together with the Department of Transport and Main Roads provided participants with an opportunity to assess the benefits and constraints associated with the establishment of inland port near Emerald.
The project examines the potential for a modal shift to rail for the movement of mining inputs (fuel, cement, chemicals) and agricultural exports (grain, cotton, citrus), using a standardised containerised logistics platform.
The Forum outlined the broader government policy and planning initiatives underpinning a potential intermodal terminal in the Emerald region and the ensuing discussions centred on drivers of modal choice as well as existing barriers and impediments to the efficient movement of freight. Industry knowledge shared at the forum was vital to assessing the feasibility and appetite for the proposed inland port and containerised logistic system.
The next step for this phase of the project will look to establish a Central Queensland Supply Chain Steering Committee (CQSCSC) to oversee necessary work to further assess the feasibility, operating structure and funding of an inland port located in Central Queensland.
The QTLC is working with government to define the role and terms of reference for the CQSCSC and will continue to engage with industry and local government to input into the project.